Latest News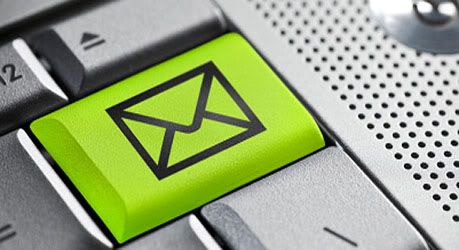 There are two kinds of lists you can build with a blog:

1.Email subscribers (Old school, more work)
2.RSS subscribers (New school, hardly any work at all!)

We'll cover both below and even show you how to put your emails subscribers on automatic followup by subscribing them to your blog's feed!
What is an Opt-in List? (old school)

An opt-in list is a collection of email addresses you gather from people who agree to receive email messages from you.

"Double opt-in" has become the standard type of signup for agreeing to receive emails.

In the double opt-in process, a person fills out your online signup form with her email address. She then receives an automatic email message asking her to click on a link if she agrees to receive emails from you. Since she must complete these two actions to sign up for emails from you, it's called a double opt-in.
The double opt-in process is designed to protect publishers from being accused of sending spam.

Benefits of Having Your Own List of Targeted Customers
One of the goals for your website is to have repeat visitors.
A great way to get people to come back is to gather the email addresses of your targeted visitors, and remind them of your site and its wonderful content through a series of emails and / or a regular ezine.
You can also announce your newest products (ebooks, etc.) to your opt-in subscriber list, and occasionally promote other people's related products that earn you a commission.

What is AWEBER?
AWEBER is an online service that enables publishers to capture visitor sign ups, and then send out ezines and followup autoresponder* messages. It's an important marketing tool for your online business.

Get Set up with AWEBER
Go to http://www.aweber.com and sign up for their service.
Watch the AWEBER Setup video for more information.

*What is an Autoresponder?
An autoresponder is an automatic email message. It can be a single message or series of messages.

You'll need an autoresponder system that automates the process of sending out your email messages to subscribers, an opt-in (sign-up) form on your site that enables visitors to subscribe, and content-rich email messages that will be sent automatically on a designated schedule.
It's an important marketing tool for publishers.

What is an Ezine?
An ezine is an email newsletter that's sent to people who have subscribed via your opt-in form to receive it. This would be what you run through your AWEBER account.
It can be a very successful tool for communicating with your customers, building a relationship with your visitors, branding yourself and your site, increasing your traffic, launching your own products, profiting from affiliate products, and more.

What Makes an Ezine Successful?
You probably subscribe to at least a few ezines from other publishers.
You've probably also quickly unsubscribed from several ezines.
What makes you stick with some ezines but drop others like a hot potato?
The ezines we stay with tend to be ones that provide useful new content and resources. We drop the ones that are nothing but sales pitches or canned / regurgitated content.

And that's the key to a successful ezine: Provide original, useful content - and preferrably, provide a lot of it for free. Always give (in the form of free, useful content) before you take (in the form of recommending a useful product or service the reader has to pay for).

Make sure some of the messages you send to your list contain no monetization at all - simply drop a line to share some valuable information for free. That's what makes you a trusted, indispensible resource for people in your niche.
Based on your research and your ongoing efforts to tune in to the conversation of your niche - what original, valuable content would your subscribers love to receive? What format would they prefer?

Adding an Opt-In Form to Your WPM Blog
(The following instructions for putting the opt-in form code on your site are based on using A Weber. If you've chosen a different autoresponder system, you'll need to modify them appropriately, based on instructions provided by your system.)
From within AWeber, click on the Leads tab in the top navigation menu.

Click on Web Form Generator

Click on Create new web form

Fill in the form:
1. Form Name – whatever you want to call it; no one else will see this)

2. Type – select In-Line.

3. Background color – leave this blank if you want, or pick a color to go with your site.

4. Headline – Enter the text you want shown just above the form.

5. Input Fields – select Email Text, Name Text

6. Submit Button Caption – enter something more interesting than "submit" (i.e., "Begin Free E-Class")

7. Thank You Page – enter the URL of your home page (or a different page of your choice)

8. Use New Window – do NOT check this

9. Forward Variables – do NOT check this

10. Ad Tracking – Leave blank

11. Message Number – select (Default) 1 autoresponse

12. Dimensions – Leave as is

Click on Save. A new page will come up that says Success: your web form has been saved.

Click on Get HTML (in the one-row table under Web Forms). A new window will open.

Copy the HTML Code in the botton box of the HTML code window.

Go to your WPM site administration page.

Click on the Presentation tab

Click on Widgets

Select and Drag a New Text Widget up to your Sidebar. Open the text widget and enter the html code from aweber into the text widget and save it.


Instructions below are for the older sites that do not use widgets

1. Open your FTP program

2. Go to /public_html/wp-content/themes/ (and the theme format you've chosen, such as contentdesk-2-col-right)

3. Select the sidebar.php file and open Properties

4. Change permissions to 777 (select Read, Write, Execute options if using SmartFTP)

5. Click OK

6. Go back to WPM

Decide where on your blog's sidebar you want your Opt-In form to show (it should be at the top; in this example, we'll place it right under the Translator image).
Paste the java script code you copied from AWeber into the appropriate place within your sidebar code. For our example, under Translator, insert it right after these 2 lines:




Click on Update File to save.

View Site to see how it looks.

Remember to go back and reset the permissions of your Sidebar file to 644 via your FTP program.

How Can You Encourage People to Sign Up?
One very successful method for increasing signups via your opt-in form is to offer a free gift that has value to the people you're targeting.
Typically this is in the form of a special report, an e-course, access to videos or audio, etc.

The Keys to a Successful Subscriber Gift
•Make sure that anyone who signs up via your opt-in form receives this free gift immediately.
Make sure your free gift is useful, valuable, and very high quality. A junky gift makes people feel ripped off (and isn't a very good sneak-preview of what they'll receive from you in the future!), and they'll unsubscribe immediately.

Building an RSS Subscriber Base
This is really where its at these days. All I have to do is have people subscribe to my blog and updates to the blog are automatically sent to my subscribers via their feed reader or via email.

Go to the Friday Traffic Report and notice that I allow people both subscription options. People who click on the RSS buttons can get an array of major feed readers to add my feed to. People who simply drop their email address get my blog emailed to them every so many days with the latest posts.

Presto! I don't have to write a newsletter! I can mail them any time I want, but when I don't want to or can't, my blog will send them the latest posts on a schedule I can control.

This is done through Feedburner and is a program called "Feedblitz." Just follow the instructions there to get set up with a little form you can put in your sidebar to allow emails subscribers.

Set up your template for mailings (your header, ads, anything you want to surround your latest entries in the emails that go out) and you have an automated system of keeping in touch with your readers!

Not that AWEBER is a bad choice. Some people prefer it and it also sends out your RSS feed to readers just like Feedblitz. I just perfer Feedblitz for simplicity and the fact that I don't often mail my subscribers outside the updates on the blog.

Use what suits you best!