Wednesday, September 2, 2009 , Posted by Jason at Wednesday, September 02, 2009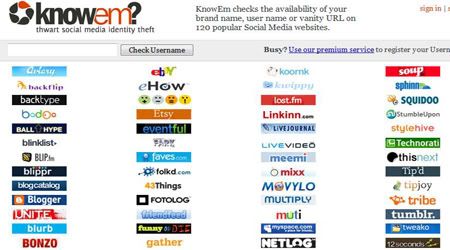 The popularity of social media networks, like Facebook and Twitter, are starting to get the attention of businesses - particularly small to medium-sized businesses (SMBs). They're attracted to it, because social media is proving to be an effective channel for creating new leads and also supporting existing customers.

With all of the promise that social media offers to businesses, there's one downside, identity theft. Many businesses are often in shock when they find out their brand is already registered on popular social networks.

Raven Internet Marketing Tools recently tackled this issue by integrating an identity theft prevention tool called KnowEm. KnowEm was created by Barry Wise and Michael Streko to help businesses take control of their brand on social networks.

So, check this great tool KnowEm.What is does it that it automatically checks availability of a give ID on 120 Popular Social Media sites.

You can use it before creating your Web 2.0 Link Building campaign.